The expression "Tuscan villas to rent" means different things to different people. The archetypal Tuscan villa is a palatial Renaissance structure, the creation of one of the ruling families of Tuscany, Italy during the 15 C. The Medici villas of Tuscany are the most famous examples. However, "Tuscan villa" also refers to more modest houses, especially the principal building on a large fattoria (farm or vineyard) and many of these are available as holiday accommodation, either in the form of hotels or as self-catering Tuscan villa vacation rentals. Some tourist agencies even apply the expression Tuscan villas to rent to any house in the Tuscan countryside that isn't an apartment. This is possibly a usage based on the distinction sometimes made between row houses and free-standing houses - "villas" - in England. However, the more widely accepted usage is that a farmhouse, even quite a large one, is a casa colonica, a form of vernacular architecture, in contrast to a villa which has been designed by an architect to be a unique structure of artistic value.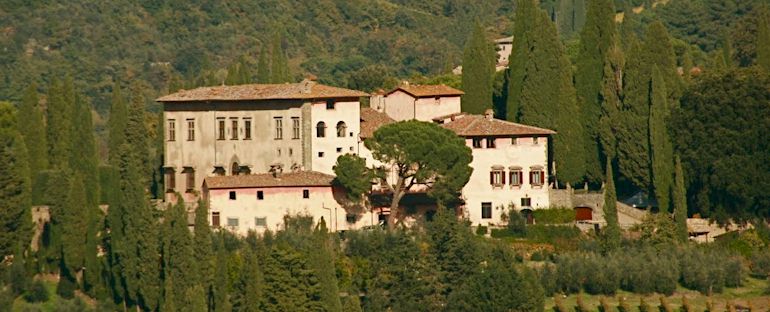 A classic Tuscan villa - Villa Vignamaggio on the road between Greve in Chianti and Lamole.
"Roman villas", in contrast, are almost always true villas and not large farm houses. These baronial structures were built initially within the confines of Rome, usually on the hillsides, but from the 18 C onwards a great many were build out in the country so that their owners could escape the summer heat of the city. A few of them are now available for short term rent and make ideal vacation accommodation for those who like comfort and privacy.

Here we list some carefully selected Tuscan villas to rent, Roman villa rentals, villa hotels, restored monasteries and large case coloniche that are available for your vacation in Tuscany and the Roman Campagna.

Usually a villa must be rented for a full week, but they are also often available for Tuscan weddings and for Tuscan travel incentive and team-building events, especially networking events where wine tasting and gourmet dining are important.